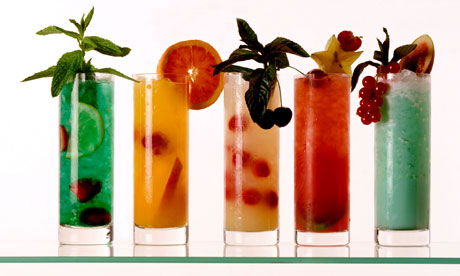 Last call at the Bar! This is it folks todays the day, 31st January 2015 and we all know what that means don't we? Yep, my last chance to have a Beer, Wine or Spirit. Oh and I did end up opening that bottle of Pinot last night, I shared it with my husband and we talked about the month that is in front of us and how he can support me best and he has decided to join me for FebFast which, is certainly going to make it easier for me. Thank you Adam, I love you to bits.
Today is election day here in QLD so its all very auspicious and luckily for me there are a few election parties happening tonight which, I am lovingly referring to as my "farewell to booze" party. I will be BBQing and drinking and socialising with my friends and I am looking forward to waking up tomorrow (probably with a headache) knowing that that is it! And you know what? I'm getting used to the idea and actually looking forward to the challenge! I'm looking forward to feeling healthier, feeling stronger, feeling less guilt that I drink too much. I'm looking forward to having more money in my wallet as I won't be spending it at BWS or Dan Murphy's and I'm looking forward to being a better person because of what I am doing. Knowing that I am helping to bring awareness to the despicable disease that is Multiple Sclerosis and assisting Mary by raising these much needed funds to get her to Moscow. I'm also looking forward to having a cup of tea instead of a wine tomorrow afternoon.
So wish me well on my journey and please, if you can, like and share my blog to your page. I really want to get the word out about Mary to help her raise this money and the more people that share the more likely we are to achieve our goal.
Now, JUST IN CASE YOU WERE WONDERING;
SHORT-TERM EFFECTS OF ALCOHOL
Depending on how much is taken and the physical condition of the individual, alcohol can cause:
Slurred speech
Drowsiness
Vomiting
Diarrhea
Upset stomach
Headaches
Breathing difficulties
Distorted vision and hearing
Impaired judgment
Decreased perception and coordination
Unconsciousness
Anemia (loss of red blood cells)
Coma
Blackouts (memory lapses, where the drinker cannot remember events that occurred while under the influence)
Long-term effects of alcohol
Binge drinking and continued alcohol use in large amounts are associated with many health problems, including:
Unintentional injuries such as car crash, falls, burns, drowning
Intentional injuries such as firearm injuries, sexual assault, domestic violence
Increased on-the-job injuries and loss of productivity
Increased family problems, broken relationships
Alcohol poisoning
High blood pressure, stroke, and other heart-related diseases
Liver disease
Nerve damage
Sexual problems
Permanent damage to the brain
Vitamin B1 deficiency, which can lead to a disorder characterized by amnesia, apathy and disorientation
Ulcers
Gastritis (inflammation of stomach walls)
Malnutrition
Cancer of the mouth and throat
All this sounds a bit depressing hey? Its just a little bit more motivation for me to not drink.
Cheers xx